Michael loves and cares for his big cat, and has provided for all of his needs - hand raising all of the ones he has had at the TTS from cubs.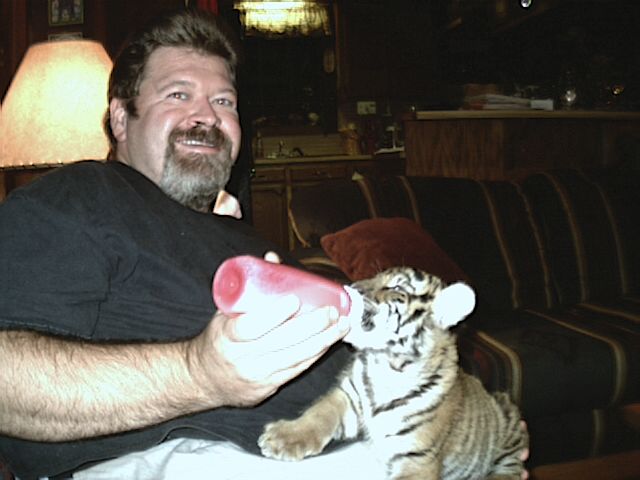 More live tigers have been born at the TTS than almost anywhere in the US, including most Zoos.
The so-called violations at the Truck Stop occurred over the last twenty years, and were for normal maintenance, among other minor things. Every time a problem was called to the attention of Michael, it was fixed to the complete satisfaction of the attending authority. Michael's tiger care is not now in any violation, neither technical or in the spirit of the law.
It would be funny if it were not so sad, that according to WRRFL.COM, the so-called rescuers had many of the exact same violations over the years.

Tony has not been declawed and will have to be kept segregated from the other tigers in other sanctuaries who have had their claws taken away.
There will be no "roaming free" at the so called "wildlife preserves", just more cages.
It sounds so wonderful, but when you look closely, you see a group of people with many cats, no matter who takes him, that they cannot possibly give Tony the care and attention he receives at home.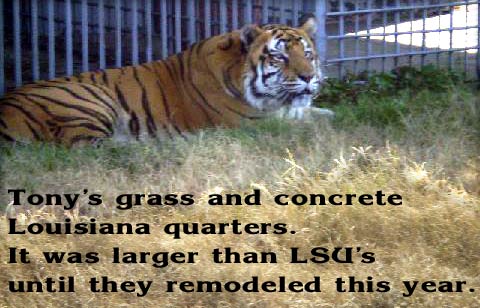 Does it make sense to say Tony will be better taken care of elsewhere when he will have to compete with as many as 150 other big cats for food, attention and medical treatment in another facility somewhere?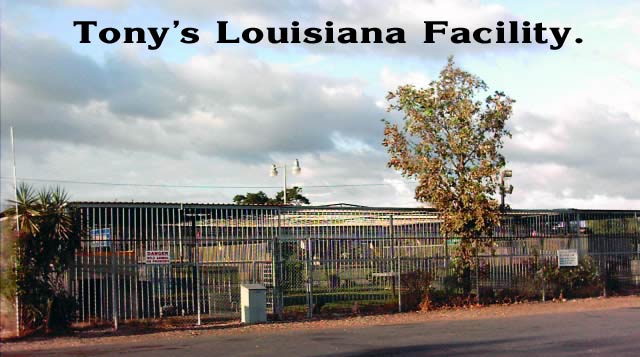 As it is now, Tony has the exclusive attention of Michael, his partner, and the licensed caretakers for Tony. He is seen by the same veterinarian that cares for the tigers at the Zoo of Acadiana, and has a 24 hour-on call veterinarian in case of emergencies. He simply is given the best care and attention possible. Below is another view of Tony's quarters, and the safety fence surrounding the complex.
SIGN OUR NEW PETITION 10-24-2013
Unlike LSU's tiger exhibit, no tiger in Tiger Truck Stop's history has escaped from this facility.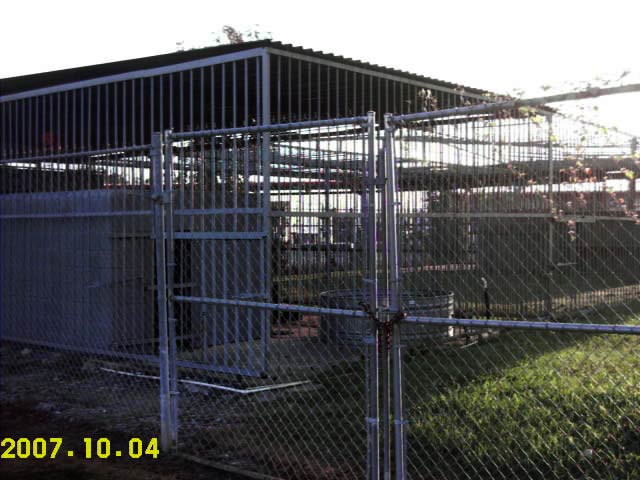 SIGN OUR NEW PETITION 10-24-2013
WHAT TONY FACES IF MOVED


WOULD YOU LIKE
- Being taken from the only people you ever knew?
- Being forced to share accommodations with 150 others in small spaces?
- Competing for food and medicine along with everyone else?
- Being put on display in front of paying mechanized "tours"? *
- Never receiving love and affection from the people who raised you ever again?
- Having your body mutilated by claw removal and worse, possibly by castration?
- Depending on "fund-raisers" and "good samaritans" to pay for your meals?
- Being forced to live only on dirty mud with undrinkable pond water constantly being forced through your pen?
- Never having your own brick home again to protect you during storms?
- Suffering in heat with no shade or rain to cool you?
- Being stolen by corporate thieves too cheap to buy their own exhibits.
Away from his home, Tony faces certain death from loneliness and neglect, not to mention a broken heart. Tigers living "in the wild" as many of these rescuers proclaim he will be, live half as long as tigers in solitary captivity.
These are all practices that have been documented at big sanctuaries, though not every one will do all of them. Why subject Tony to the possibility of any of them?
It is shameful the way some people are distorting the truth about Tony and his care. Cats are solitary animals, and caging him with as many as other animals at a so called "rescue" place will be worse than any fate you could imagine. Please help us stop them, and keep Tony free!

SIGN OUR PETITION NOW TO SAVE TONY FROM THESE CORPORATE EXPLOITERS!!!

*(Note: Tony hates flash cameras and after the "activists intentionally abused him by flashing repeatedly in his face, he now becomes agitated even at the sight of them. Can you imagine the effect on him of hundreds of people a day taking flash photos of him?)